Robust SIP Phone ActiveX Control
Download v1.220 Install Package

Download v1.220 OCX
Download Samples(C#, VB.NET, VB6, HTML, Borland C++ Builder, Delphi)
Methods and Events
Configuration
Get trial licence to test out
Old version:
v1.209
v1.208
v1.207
v1.206
v1.203
v1.198
v1.196
Support NAT traversal via STUN & symmetric RTP
Interoperable with various 3rd party SIP end user device, Proxy/Registrar/Server, and gateway products
Advanced Software Digital Signal Processing (DSP) to ensure superb hi-fidelity audio quality
Advanced and patent pending adaptive jitter buffer control, packet delay & loss concealment technology
Support popular vocoders including G.711 (alaw and mulaw), G.726, GSM, iLBC(20ms and 30ms) and Speex.
Dynamic negotiation of codec and voice payload length
Support Silence Suppression, VAD (Voice Activity Detection), CNG (Comfort Noise Generation), Line Echo Cancellation (G.168), and AGC (Automatic Gain Control)
Support DIGEST authentication and encryption using MD5 and MD5-sess.
Support one button audio-recording feaure.
Support music on hold.
Playback and recording sound devices can be different
Support Call hold and tranfer
Support DTMF in audio and SIP info
Conference feature
Click here to get about: How to use this ActiveX in webphone solution.
Step 1: Download Trail Version 1.220 (The limitation of the trial version is that the conversation will be cut off after 3 minutes and softphone can only run one hour).
Step 2: Install.(If you have installed previous version of this ActiveX, please uninstall it first)
Step 3: Launch web phone, or application phone in Start/All Programs/PCBEST Network Webphone/WebphoneApp.exe.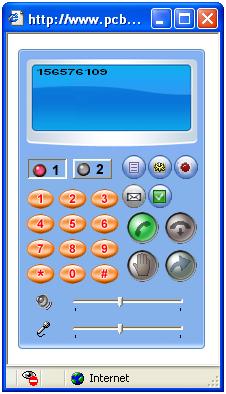 | | |
| --- | --- |
| | Options. (Set your SIP account here) |
| | Call Logs and Phone Book |
| | Audio Record |
| | Voice Mail Indicator(WMI) |
| | Advanced Call Features(Auto Answer, Do Not Disturb |
| | Dial out or Redial |
| | Hungup call. |
| | Hold/Unhold call. |
| | Transfer call. |
| | Line 1. |
| | Line 2. |
Step 4: Configure your sip account, then restart(If you want to receive incoming calls). If you don't have SIP account, you can still make outbound test calls by doing step 6.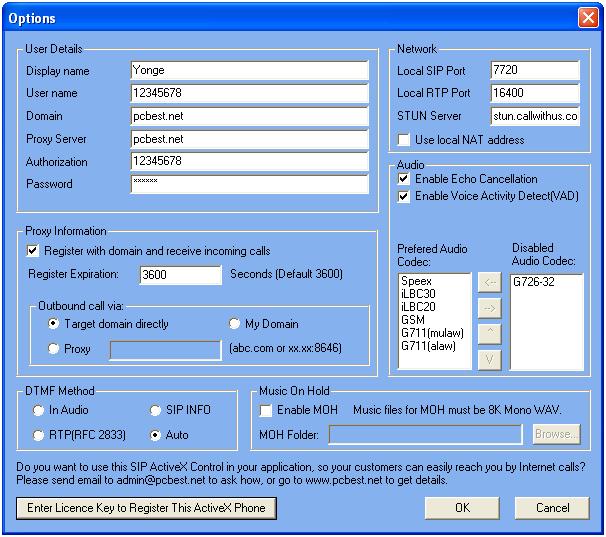 Step 5: To see if your sip account number is displayed on the screen.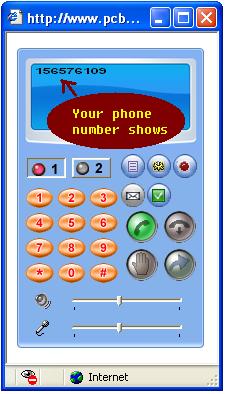 Step 6: Dial out. To make a test call, you can dial 8888@pcbest.net to hear a test music or 8000@pcbest.net to do echo test.
If you want to use this ActiveX phone in your program, you can find the entry after you installed the ActiveX. See the picture below: